Meeting your assessment needs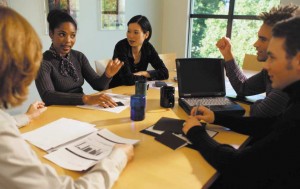 As organisations strive to gain competitive advantage through their people, observing behaviours and matching them against an appropriate competence model offers a powerful way of understanding the fit between the organisation, and the individual. It also provides objective data on an individual's strengths and developmental needs relative to the organisation's aims.

We provide realistic simulated business environments, enabling the relevant people from your organisation to observe key people operating in highly participative and demanding business environments, in an innovative and challenging way.
We can work with you to develop bespoke centres with differing levels of complexity depending on the needs of the individual, team and organisation.
We have experience in developing assessment interventions for a wide variety of needs, including:
Recruitment
Succession planning
Identifying high potential
Suitability for International mobility
Working in key customer facing roles
Suitability for Headquarter roles