Worldclass business simulations
We have business simulations to help companies large and small. We offer a variety of licensed and proven simulations, which are used by some of the largest Corporations and Business Schools across the world.
As well as their use as a powerful experiential business training tool, some of our simulations lend themselves extremely well to providing a rich environment for assessment.
Each of our simulations offer a highly engaging experiential learning experience – an interactive approach, with lots of active decision making, working against time and financial constraints – learning with a strong business focus.
Business simulation formats: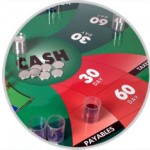 Physical board based simulations – These experiential, classroom-based learning programmes develop your people's business acumen, leadership and accountability.
Computer based simulations – State of the art programs which can be utilised with a strategic perspective for experienced managers or as an operational challenge for junior management.
Each simulation is designed to reflect the competitive, constantly changing business environment, the simulation lets managers, students and other professionals experience the excitement of running a business and competing in a challenging market.