Overview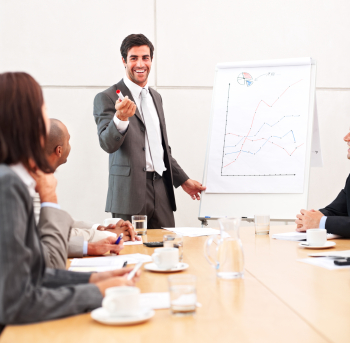 Facilitator Led Simulation
Bissim is an extremely flexible, realistic and detailed business simulation.  It is designed to give a global view of all elements involved in business. This is achieved by teams of participants running simulated businesses over a period of time and experiencing the results of their decisions, which are computer processed. While the simulation is running, it can be blended with lecturettes, exercises and case studies to teach concepts, which can then be applied to the teams' simulated businesses.
Blended Learning
The simulation can be facilitated with the blended use of observers, peer feedback, questionnaires and other tools to develop knowledge and new skills, or to effectively assess or develop individual and team performance.
Applications
Either stand alone or blended for:
Business acumen – all relevant financial, commercial and strategic issues
Strategic workshops
Change – understanding and managing change
Teambuilding, leadership and relationship issues
Assessment centers (for development or recruitment)
Development workshops (including coaching)
Business improvement
Scenario
The scenario is one that teams can easily visualise and being hypothetical, it removes preconceptions individuals may have. This provides a level playing field and makes it easier to draw links between the simulation and your organisation.
The Process
Having analysed the data, structured their team and carried out board appointments each company will then put together a mission statement, set its objectives and decide on a strategy to achieve them and set a balanced scorecard. The teams will then address the strategic and operational issues facing them.
After each years trading, they will receive a computer print-out, with quantitative financial data and qualitative performance indicators.
Each team's performance will be dependant on the market and economic environment, their competitor's decisions and indeed their own decisions.
Reviews of the task, the process and other supporting inputs can be built in as needed.
Evaluation
Finally each team will deliver a formal presentation as if to their shareholders about how the businesses had performed.
Learning addressed
Facilitated discussion will enable parallels to be drawn between the simulation environment and your own business, ideally by an attending senior manager, enabling your control of the orientation of the learning points you are keen to address.
Features
A range of facilitator controls enables an infinite array of inter-team transactions and adjudicator interventions. Anything that can be done in the 'real world' can be done in the simulation.
A unique range of over 100 operational decisions.
The marketing decisions are based on detailed and authentic socio-economic data which may be bought as market research.
The econometric model at the heart of the simulation has been tuned to produce accurate relationships between the decisions and the results, in accordance with detailed research.
The evaluation summary programme provides perceptive and detailed analysis of each team's results and comparisons with other teams.
The simulation responds automatically to teams decisions with messages from employees, bankers, creditors, consumers, auditors and others.