Learning Objectives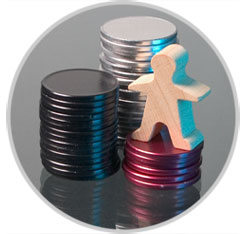 At the end of this program, each participant will understand:
why market conditions dominate business decisions,
the difference between cash and profit,
fixed and variable costs,
the value of budgets and cash flow forecasts,
the impact of inventory build-up,
the need to control working capital,
financial statements and their management uses, and
why your company uses specific financial measures: operating income, EVA, etc.
Each participant will have these tools:
basic financial statements – income statement, balance sheet,
budgets and cash flow forecasts, and
break-even analysis.
Each participant will experience:
playing all the major roles in an operating company – production, R&D, sales and marketing, management, and finance,
making team decisions in each of these areas,
generating financial statements for their operating company,
preparing a budget and cash flow forecast,
preparing break-even graphs,
calculating basic ratios on their operating company,
using operating income and ratios to compare to competitors,
identifying areas of improvements to their operations, and
using ratios and other measurements to identify the 'buttons' which drive company performance and behaviour.
Each participant will be better equipped to:
interpret financial reports,
control costs,
structure sales,
reduce inventories and working capital,
target profit opportunities,
better serve internal and external customers, and
understand how their actions impact other areas of the company.