Outline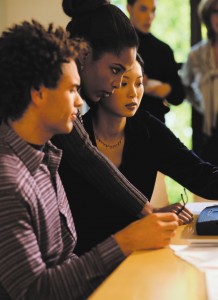 Simulation set up
One of our experienced staff will set-up simulation and they will be backed up by a team of support staff who are on call 24 hours a day to assist with any additional support should it be required.
Setting up the teams
The simulation can be run by individuals or teams. We recommend forming business teams of 4 to 5 individuals, however this may vary depending on the size of your group. This number provides each participant with a good opportunity to play a part in running the business and also to feel that they are making a valuable contribution to their team.
Simulation Begins
Once logged on the individual or team then follow the Simulation instructions and start to run and manage their businesses. After each person or team has reviewed or discussed their business decisions for each quarter they will they submit their decisions. Once all individuals or teams have submitted their decisions the simulation will then calculate the results and distribute the results to each person or team.
Individuals or Teams Compete
This creates an exciting and competitive environment, just like the real world, where they will experience the highs and lows of winning customers and market share from other competitors.
Completion of Business Quarters
At the start of each new business quarter each person or team will be able to see the impact of their previous decisions in the performance report area of the Simulation. They will also be able to see how their competitors are performing in some key areas. The results are constantly changing and each participant will learn quickly to assess the impact of their decisions and analyse what worked well and what didn't. They will then adjust their strategy to improve their position. All performance related information will be accessible throughout the quarters, enabling the participants to learn from past decisions and results. Each quarter will also have a time limit and participants will learn to manage their workflow and to work as a team in order to complete each quarter on time. Throughout the completion of the quarters online staff will be on hand to support the participants.
Final Results and Close
Following the completion of the final quarter the Simulation will compute the final results. Once the results have been verified a summary of the participants' performance will be made available.