For those leaders emerging from the ranks we have evolved a 'soft skill' modular developmental programme. This is delivered over a nine to twelve month duration, generally two days per month, enabling experiential application and feedback over the programme itself.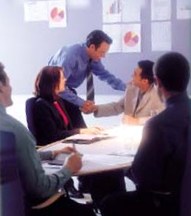 This is a bespoke service for organisations which have identified individuals for promotion.
General content includes:
Leadership
Building the Perfect Team
Selection Interviewing
Business Presentations
Building Relationships
Training and Developing your Staff
Performance Coaching
Managing your Day
Essential Business Writing Skills
The above can be seen as a potential suite of workshops which can be refined to meet your specific needs.