What better way for the benefits of team work to be realised than by putting theory into practice – it's widely acknowledged, the best way of learning something is to do it. Using our business simulations at your team building event will encourage teams to find the most effective ways of working together whilst running a virtual business.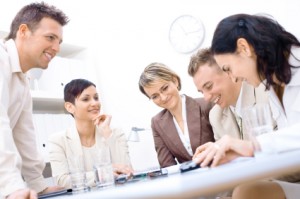 Teams will have to face and overcome the challenges of a dynamic, competitive market place ensuring they meet their share-holders expectations, whilst meeting the needs of customers, employees and other stakeholders.
Whilst our business simulations clearly demonstrate why team work is so important within an organisation they also help participants see how their individual performance and contribution affects the success of the business.
Our simulations can be integrated with other tools and materials (e.g. Myers Briggs, Belbin, HDI, or Profiles Team Analysis) you may wish to use to develop an understanding of current team capabilities and develop individual and team performance.
Our business simulation events can be tailored to your needs. Please contact us to discuss your requirements.